[ad_1]

NEW DELHI: The cyclone 'Tauktae', which already brought heavy rains to many parts of the western coastal states on Sunday, is "very likely" to reach Gujarat coast on Monday evening and cross areas between Porbandar and Mahuva (Bhavnagar district) around Tuesday early morning, said the India Meteorological Department (IMD) in its latest update on Saturday.
The major impact of the landfall will be felt in Porbandar, Amreli, Junagarh, Gir Somnath, Botad and Bhavnagar districts where the 'Tauktae' will cross as a 'very severe' cyclonic storm with a wind speed of 155-165 kmph gusting to 185 kmph.
"Damage is also expected in Devbhoomi Dwarka, Kutch, Jamnagar, Rajkot & Morbi, Valsad, Surat, Vadodara, Bharuch, Navsari, Anand and Ahmedabad districts of Gujarat," said IMD director general M Mohapatra.
He said, "The cyclonic system is being monitored by Doppler weather Radar, Goa. The IMD will keep on updating the movement of the cyclone and alert the state authorities and central agencies."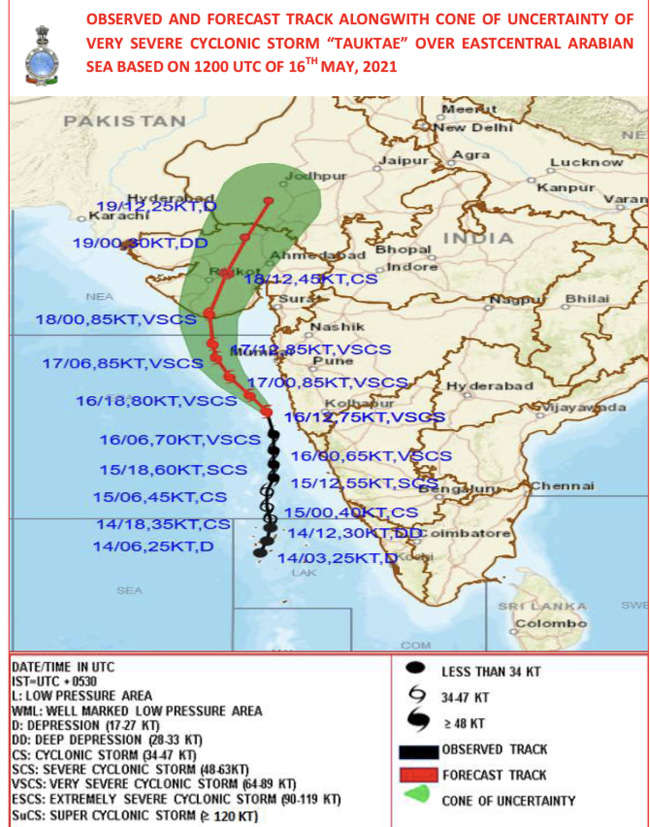 The state administration in coordination with the central agencies has, meanwhile, started evacuating people from the vulnerable coastal areas in Gujarat. "The state has been advised to completely suspend the fishing operation. People have been asked to remain indoors (during the landfall)," said Mohapatra.
The IMD on Sunday issued a warning of storm surge of about 3 meter above astronomical tide over Amreli, Gir Somnath, Diu, Bhavnagar; 2-3 m over Bharuch, Anand, southern parts of Ahmedabad; 1-2 m over Surat, Navsari, Valsad, and 0.5 – 1m over the remaining coastal districts of Gujarat during the time of landfall. The storm surge is likely to inundate most of the low-lying areas in these districts along the coast.
In the backdrop of these warnings, Union cabinet secretary Rajiv Gauba on Sunday chaired a meeting of the National Crisis Management Committee (NCMC) through video conferencing with chief secretaries of Gujarat, Maharashtra, Goa, Karnataka, Kerala and Tamil Nadu as well as advisors to the administrators of the Union Territories of Lakshadweep, and Dadra & Nagar Haveli and Daman & Diu.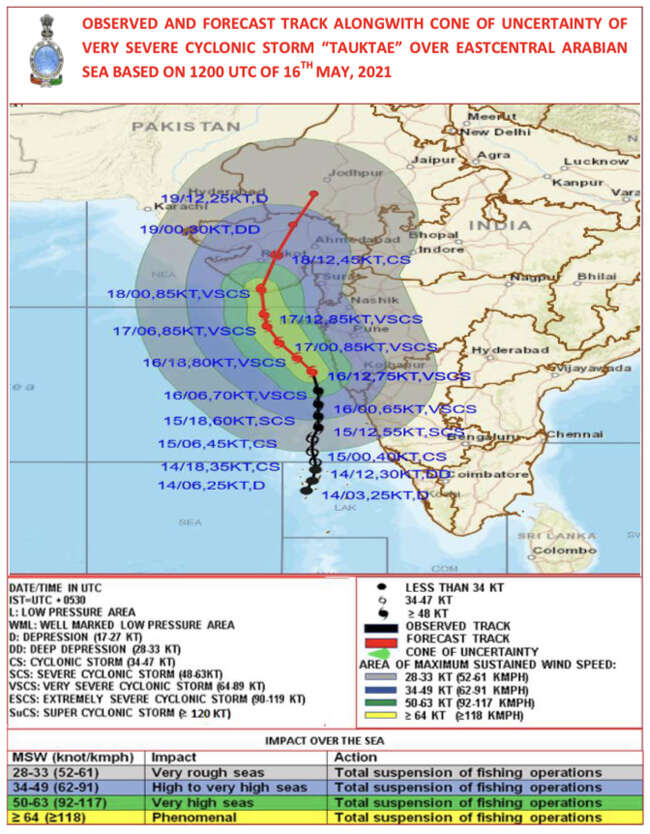 Reviewing the preparedness of the Central and state agencies, Gauba stressed that all measures should be taken to evacuate people in areas affected by the cyclone, so as to ensure zero loss of life and damage.
The cabinet secretary also emphasised that all steps should be taken to avoid disruption of functioning of hospitals and Covid Care Centres. "Necessary arrangements have been made in this regard to ensure uninterrupted functioning of hospitals and Covid Care Centres, along with ensuring generation and supply of oxygen to Covid facilities across the country," said a statement.
The National Disaster Response Force (NDRF) has, meanwhile, deployed or made available 79 teams in the affected states for relief and rescue operations. Besides, 22 additional teams have also been kept in readiness. "Rescue and relief teams of the Army, Navy and the Coast Guard along with ships and aircraft have also been deployed," said the statement.